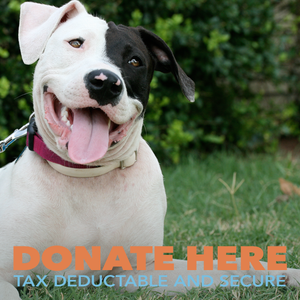 Thanks for your Donation!
This is a $50 financial donation for SPAR- Saving Pets At Risk dog rescue and pet adoption to use to pay vet bills, boarding fees, and daily expenses as we for the needs of the adult dogs and puppies in our care.

SPAR is able to rescue dogs because generous people with big hearts donate financially to our mission. We work to save as many abandoned dogs as possible. Success to us is when they are 

placed with carefully chosen forever families that will love them and provide for all of their needs, including safety and good health for the rest of their lives.
We appreciate your kindness and generosity.
All donations are tax-deductible and non-refundable.
Who We Are:
Saving Pets at Risk, Inc. is an Oklahoma Animal Rescue and Pet Adoption, 501(c)(3), charitable organization that is operated entirely by volunteers using donations from supporters in order to rescue abandoned, neglected, injured and abused dogs.  

While some pets are surrendered because their families can no longer care for them due to financial problems or other personal reasons, most of the pets SPAR saves are simply abandoned on the streets or left in the country to fend for themselves. Which, as one can imagine, usually has devastating consequences for the animals. It is unfortunate but the municipalities in the county our rescue serves provide little to no animal welfare resources for pet owners in desperate need of assistance. This ultimately leaves the community with few choices.

Once a dog enters the SPAR rescue program, Saving Pets At Risk provides for all vet care including necessary surgeries, treatments for health conditions and illnesses, medicines, and rehabilitation. Each animal is fully vaccinated, started on flea/tick and heartworm preventatives.  Before being placed with their forever families, the dogs are spayed or neutered. All animals remain with SPAR until homes are found; for some, they remain with us until the end of lives.